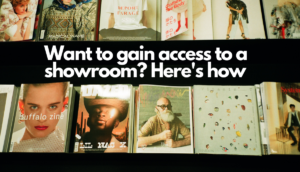 The showroom; a magical place for a stylist, a one stop shop of exactly what you're looking for, providing a haven of options from brands, top designers and indie creators alike. Showroom access is a must for stylists to provide the best options for their clients and projects and to establish themselves in the industry.
But getting on the showroom guest list is no easy task. 
Showrooms, ran by high powered PR Agencies, house collections worth thousands to millions of dollars (I recently styled a celebrity with jewelry that had a combined worth of 100k+; buying, rather than borrowing, these pieces was not an option) which incredibly enough, they loan out to strangers also known as: stylists they may not personally know.
Because of this, if it is your first time working together, showrooms need to know you're reliable, vetted and responsible enough to care for the merchandise they loan you. 
Because they're running a business after all, in addition to being trustworthy, showrooms and PR agencies need to know you can deliver. This means: your skill level will need to be apparent, proof that the quality of work you promise to produce will be at the proper caliber to share with their clients; clients who are looking to get the best coverage possible for their brand.
They will also need to know that the samples will be treated properly and returned on time so that they can continue their rotation of loans, getting as much coverage per season as possible. 
Here's what you need to know before reaching out to a showroom:
Showrooms already know who the established stylists are
That means, if you're coming into their inboxes and they haven't heard of you or worked with you before, either as a stylist or a stylist's assistant, they will be leery right from the start, meaning it will be up to you to convince them early on that you are to be trusted, both with their garments and their time, presenting yourself as a professional who is reliable and can be trusted with their samples (worth thousands upon thousands of dollars).
What you need to do: 
When reaching out, remain professional at all times; it's o.k. to be a little casual where appropriate and you know, to come across as a human and not a robot, but use proper grammar and a professional tone. Structure your sentences, use paragraphs and put in a semi colon when it makes sense. Let the agency know through your use of professional communication, that you are a pro stylist running a professional business; a stylist who can be trusted. 
If you have a mutual acquaintance or someone referred you to the PR Agency / Showroom, mention them in your introductory email, it will give you the credit you need to get started.
Showrooms are more apt to loan to stylists who are known in the industry for a reason; established stylists have a reputation to uphold. They cannot afford to be blacklisted or have word go around town that they're unreliable and don't return pulls. So, if you know the same people, it's an assurance that you will not just borrow a bunch of expensive clothes and never bring them back.  
Don't let it be the elephant in the room that you haven't worked together before. Be real about the fact that they may not have heard of you. Mention how much you have been wanting to make the connection and work together. Research the PR Agency / Showroom and indicate to them that you appreciate the clients they work with and represent; mentioning specific brands that they are representing. You will appear not only knowledgeable but authentically interested in forming a working alliance with the showroom. Don't be a butt kisser, but show genuine appreciation for the work that they do. 
DO NOT
Absolutely, under no circumstance, should you ever reach out to a showroom and drop names of people that you are not working with or do not personally know. The industry is small and you will get found out. 
It also goes without saying, that if you want to use the name of the stylist you assist with as an in, to mention this to the stylist first. And remember that your conduct is an extension of their business AND your future business. They don't want to hear through the grapevine that you returned something late or damaged and have their own reputation questioned next time they ask to borrow something and you show up to retrieve it. 
You will need proof you're capable
Before ever reaching out to a showroom, you will need a place to send them so that they can view examples of your work, especially if they have never worked with you before.
If you don't have samples of your work, ie/ a portfolio, then you are not ready to reach out to a showroom. Focusing on building your portfolio should instead be your next step.   
An online portfolio or website that you can reference in the initial reach out is the best way to establish that you are a serious stylist, reliable and can deliver. It also vets you as a professional who is reachable and has something to lose if anything goes awry with the loans (aka your reputation). 
Reaching out to a showroom without a portfolio, a website or any previous work, will result in crickets. 
Stylists who are looking to borrow clothing for their first round of shoots will not be granted access to a high end showroom. I know, it's a frustrating catch-22 of the industry, however, there are many alternatives to borrowing clothing at this stage in your career. If you are at this stage, I recommend focusing all of your energy into building a strong portfolio that will garner you top notch attention and eventually, entrance into the best showrooms. 
If you do have an array of images that show your caliber of work arranged in an online portfolio, then I recommend that you divert the attention of the PR Agency straight to it so that you can quickly earn their trust and gain their interest in working with you.  
What you need to do:
Within the body of your email, either when introducing yourself or concluding your project pitch to pull from their showroom, divert their attention to your work and include a link to your website.
For instance, you can subtly include your portfolio in your introduction: 
My name is Felicia Ann Ryan (feliciannryan.com), I'm an international fashion stylist based in Toronto and I am currently working on a project in NY that I think would be a perfect fit and would like to request an appointment to pull from your showroom. 
Or
More directly in your conclusion:
My portfolio and examples of my editorial and campaign work can be seen here: feliciaannryan.com
You can also bring attention to specific projects that you believe will influence their decision to work with you.
For instance:
I've styled multiple celebrities for red carpet appearances, editorials and press tours, including this most recent story featuring Serinda Swan for House Magazine.
And include a link for them to view.
Often agencies are too busy to review all of your work to make a decision so directing them to a specific high caliber project that you are proud of can quickly get you a yes. 
I would recommend a more focused approach that includes an introduction to your work, but at the very least, ensure that your website is included in your signature. 
DO NOT
If you don't hear back from a showroom, do not lose faith. Politely follow up and if you still don't hear back, avoid going down the rabbit hole of not being good enough. Maybe this particular project was not a good fit for the agency and they didn't take the time to tell you they passed on it (this happens all the time). However, not hearing back should never stop you from contacting them in the future. Every new project is a new opportunity, don't let your ego decide the possibilities of your future. 
You are essentially selling yourself and your idea to gain access to the goods
Remember that you are pitching to the PR Agency / Showroom when you contact them to pull; you are essentially selling yourself, your project and your client for access to the showroom. Because of this, you should subtly be talking up your project, yourself, and if applicable, your client. 
Until you have built a strong relationship with the PR firm through repeated projects working together and built your rapport, you will need to be specific and influential in your description of the project you would like to pull for.
So, if you are requesting a pull from a showroom for a celebrity appearance, talk up work that you have done before. If you have styled celebrities for red carpet, appearances, press tours etc etc mention this, and mention a short list of client examples.
If you are making an editorial pull request, list publications that you have been published in, make sure there is a link to your editorial work, reference a recently released editorial, and of course, reference the current project that you are requesting the pull for. 
Some publications and projects have more pull than others. 
For instance, someone requesting an editorial pull for VOGUE will have preference over a request for a more indie publication. The same goes for a celebrity stylist working with an established artist (such as Rihanna) over a stylist working with an up and coming artist.
If you know that your publication or client isn't necessarily high ranking, and is more indie than high gloss, highlight the overall uniqueness of the project. This may be in the depth of the concept, the exotic location or what the project represents. 
DO NOT
Get discouraged; discouragement can come easy when you're consistently denied access to the pieces you really want. But it happens to everyone. Remember, the showroom is a business and although you may be thinking creatively, the PR Agency is thinking like the  business it is. They will ensure that what they have is getting the absolute best coverage possible. If that means another stylist will receive more coverage for their project, then that means the other stylist is going to get the piece you asked for.
Don't worry, you will eventually be, 'the other stylist'.
You must be specific with your request and be clear with all of the details
The more information that the showroom has available to them, the easier it is for them to say yes. 
What you need to do:
Be specific and include: 
The date / time you are requesting to pull and the date / time the pull will be returned (this is incredibly important! The showroom schedules tight pulls to get the most out of their loans)
What the project is (celebrity appearance? Editorial? For what publication? Campaign? For what company/brand? Etc etc). 
Who the creative team is: including photographer, model/muse/celebrity, hair and makeup (if the beauty team has been decided)
Include a moodboard or creative deck if you have one – which you should since the creative/fashion direction is what is steering your decision to pull from this particular showroom in the first place. The overall mood / direction also helps the showroom make recommendations on items they may have to loan that you are not aware of.
Include pull letter if you have one
List the specific items that you are looking for / requesting. 
DO NOT
Keep the email short and concise – do not yabber on – just lay out the facts, use enticing language to promote the project and confidently and correctly share all of the details that you have. 
Know what you're asking for
Probably the most important point of all – be familiar with the PR Agency / Showroom you are contacting and know the brands (or at least most of them) that they represent. If you contact a showroom requesting gowns for an award show or red carpet event and that agency doesn't represent even one designer that does evening wear, you're not only going to insult whoever receives your email, but you will likely impact your budding relationship right from the start.
Be familiar with the designers that you are reaching out for. The agency wants to know that you specifically have their designers in mind, not that you're desperate and just reaching for whatever clothing you can get your hands on. 
What you need to do:
Begin the conversation with statements like: "I have an upcoming project that I think (insert designer here) would be perfect for and would like to make a pull request." 
Take the time to go through the designer's collection and screen shot items that suit the project; include these images within your email, stating that, "I have reviewed the collection and included images of pieces that are most suitable for the project", requesting these or similar pieces that are available. 
Ask the showroom for recommendations in case your requested items are not available.
And a secret sauce boss move that will leave any agency quivering … inquire if there is anything that they would like to highlight in the project and inform them that you will do your best to include the items if it is a fit with the overall creative direction.  
DO NOT
Do not be ambiguous or vague with the styling direction. Know what you need ahead of time and be specific. Otherwise, the Agency / Showroom will think you're reaching for anything you can get your hands on and they will not be flattered as they simultaneously question the caliber of your project and the level of your expertise.
In The Know
If you follow this advice when reaching out to showrooms, I guarantee that you will get better results quicker and your work will become a direct reflection of your newly acquired access to high end showrooms.  
You will produce the creative results you know you are capable of and the quality of your creative teams and clients will grow organically as you gain access to what photographers and clients want most: the best of everything.